Do you know? there are different types of blenders or mixer grinders for multiple types of mixing work?
And here I will give all information about this type of mixer grinder with its use so… Let's start…..
Here are Different Types of blenders and their usage
1. Kitchen Blenders:
These are normal blenders that are used in our kitchen normally it has 3 different medium size Jar which is very useful while making small piece of vegetables and herb also it can be used for multiple purposes.
You can make pests, you can make dosa batter, or you can blend hard items in this.
2. Dry Mixer Grinders: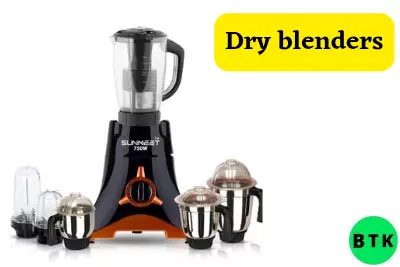 The dry mixer grinder is similar to a normal kitchen mixer grinder but its design is a little bit different, it has a medium and bulky body with a powerful motor which makes it enough capable to make powder of dry ingredients.
3.Wet mixer grinders:
Wet mixer grinders are a little different from other blenders because it has a bulky body with a large container but the motor is not fast, the only work of this grinder is mixing wet and other things.
4. Hand Mixer:
Mostly this type of blender is used while you are making cake, it has a long and highly rotatable mixing hook that can easily break the particle. Most of the cake backers and households are using this for mixing egg yolks, and also this mixer use for making batter. 
5. Stick Blender:
A stick blender similarly looks like a stick and this type of blender is usually used for making juice or making, it is easily carryable and it starts working with a simple button press.
6. Countertop Blender:
As the name indicate the blending jar of this blender is quite big so it is a perfect blender for juices and smoothy, cutting beds are designed to make a very small piece of fruit and vegetables.
7. Stand Mixer:
Stand blenders are mostly used for commercial purposes, they can mix massive amounts of ingredients at the same time
So cake shop owners or other shop owners use this blender.
8. Single-serve blender:
A single-serve blender is quite a small mixer grinder but is easily carryable, most chefs use this type of blender for blending small ingredients like garlic, onions, and seeds
It has a single blade so it can easily operate.
---
What are the top 4 best blenders from the above list?
If you choose the best blender based on its working function and usefulness then the best mixer grinder or blender should be
Kitchen blender, for multiple works.
Countertop Blender, for making smoothy, juice.
Hand blender, for normal use in the kitchen
Wet mixer grinders, to blend wet easily.
---
What is the name of popular blender brands?
These are a few brands that are popular in the blender industry these brands are not only popular but also give great value to their customer so let's see those…
Etc…..
These are the 6 best blender or mixer grinder brands across the world.
---
Conclusion on Different Types of blenders and their usage
There are different types of blenders present and they help you in multiple works like smoothly making, shredding, chopping, mixing, and other work.
But in this article, you got all information about those different types of blenders which helps you to decide which type of blender is good for you.
So if you like this please share it and post your question in the comments, I will love to help you.❤❤
---
FaQ
Q: Which type of blade do hand blenders use?
Hand blenders use usually b shaped blade which is enough capable of blending ingredients smoothly and also the blade size makes it very fast.
Q: Which type of blender do professional chefs use?
Most of the chefs love fast, accurate and powerful blenders so they use Vitamix brand blenders and the blender category is a countertop.
Q: Which type of blender is used for cake making?
In simple words "Stand Mixer" is perfectly suited for making the cake, it is easy to use and easy to clean so most of the cake backers love this blender.
Q: Which type of blender was used for juice making?
Blenders like countertops and single-sleeve blenders are good at making juice also single-sleeve blenders are easily carryable.