Are you also facing kitchen decorating related problems like me? Last month we make a kitchen in our new house, due to the small space, we make the kitchen room small but I find some small kitchen decorating ideas that make our small kitchen super stylish.
Are you ready to know those effective small kitchen decorating ideas, if yes so let's start…
30+ small kitchen decorating ideas for your lovely kitchen
Here I will share 30+ different types of small kitchen decorating ideas and those ideas are easy to make, also some of these are very affordable and some of them are available in your house so keep reading…
1. Grow flowers and oxygen-producing small trees
If you want to make your kitchen smell good and want to fill your kitchen with positive energy so you have to grow high oxygen giving small plants like Basil (tulsi), snake plant, and money plants you can grow these plants to make the kitchen beautiful and positive.
2. Organizing drawer
Make a small drawer for your kitchen and fix it on the kitchen wall, I would recommend you to fix that drawer on the right side of your hand and make that drawer easily accessible so you can easily take out items while cooking.
You may also be interested: How to use kitchen mama can opener
3. Hanging hooks
The hanging hook technic is a very helpful design technic in small kitchens because you can fix some hanging hooks on the wall and then you will be to hang cookware, pans, and small and big knives on this.
You can also arrange those hooks in a different pattern ( triangle, round, and other ) for making them stylish.
4. Organising racks
Racks are a little different from drawers, you can store the small containers on this, some spices or small tools, and also daily use food items. I would recommend you arrange those racks on the top of the kitchen window and also you can fix it under the kitchen table.
5. Stickers
Good design stickers can enhance your kitchen interior look so you can also use stickers for making the kitchen beautiful.
6. Moving table
It is a very innovative idea, I would recommend you to invest in it because it has some wheels for moving that table so it is a very helpful idea for a small kitchen.
7. Table under space
If you have a normal or moving table so you can use both table's unused space you can store some kitchen equipment or some trays and cans which are mostly used in cooking.
8. Use different types of lights
As you know light indirectly affects our subconscious mind and our behavior so you have chosen some light that makes you happy and faster…
Cool white = for good visibility and a shiny look.
Blue = blue light able to reduce your stress
Warm yellowish light = is good for your eye and it quite boosts your speed ⏩.
9. Use magnets
As you know magnets attract iron and some other metal so you can use magnets for holding your knives, and other small items.
You can also check out our review on this magnet strip for the knife.
10. Pocket pouch
The pocket pouch is a good looking and very helpful DYI because you can store small items inside the pouch and the best thing, it is very simple to make, very beautiful and it is 100% homemade.
How to make it in 4 steps…
Take a flat surface cardboard piece
Make your design on this
Stitch a towel or a beautiful cloth piece on the cardboard surface
Your pocket is ready to use…
11. Foldable windows
The foldable window is very useful in a small kitchen, you can fold that window, also you can use that window for hiding something.
12. Create a metal net side of the kitchen tap
Fix a beautiful metal net side of your kitchen sinks that will filter all waste food and other big items so your kitchen sink will be clean and good looking.
13. Use a White board
A simple White or blackboard can boost your working speed and make you more organized. Also, you can use it for writing recipes and kitchen related problems.
14. Organize items by it's a category
A well organised small kitchen can be much more beautiful than a big but unorganized kitchen so organize your kitchen with every item by its size and need.
Organize the most needed items like spices, oil, and others. Store the side of the cooking table.
Store less needed items on the kitchen rack.
Store minor needed items inside the kitchen drawer or other storage compartment.
15. Make a small storing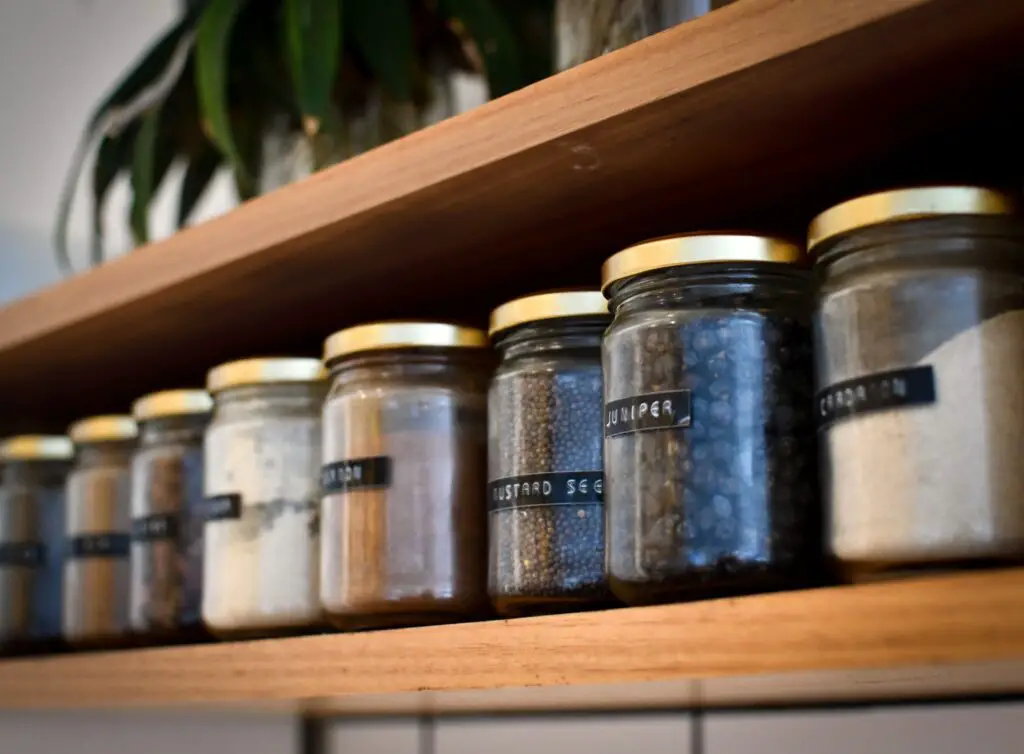 Purchase some different shapes and sizes of storing containers that will store your spices, salts, sugar, and other essential items and took those containers side on your kitchen table.
16. Add wallpaper
If your kitchen wall is looking bad or if you want to make your kitchen super stylish so you can purchase some wallpaper for your kitchen room that will enhance the beautifulness of the kitchen.
17. Hang pots and pans side of drawers
If you have a drawer so you can hang your cookware and other small pots and pans side of a kitchen drawer or kitchen table. It is the perfect place for hanging that.
18. Coffee cup decorations
I think your family is also a coffee or tea drinker like our family, so you can set up your all cups on a wooden board and place that board on your kitchen wall.
19. Foldable chair
A foldable chair is a great choice for a small kitchen you can use those chairs for your kitchen table after use you can fold it and store it.
20. Plate holding
If you want to make your plates organized and clean so I would recommend you purchase a plate holder. You can organize plates by their size and they look very cool.
21. Create foldable doors
A small kitchen needs foldable doors because when you open a door in the kitchen that takes up space so if you fold that door that will not create a problem.
22. Attach a net to your ceiling
Hanging a net on your ceiling is a good idea to store small vegetables and herbs, It will save you time and don't affect the kitchen's beauty.
23. Make a mini garbage tab
The kitchen produces lots of garbage daily so make a mini garbage tub for storing kitchen garbage you can also convert kitchen garbage into garden compost check the link.
24. Work on your entrance
When someone comes to your kitchen they first saw the kitchen entrance to make your entrance like your welcome the person but don't decorate the entrance heavily.
25. Wooden interior
The wooden interior gives a classic vibe to us also the beautiful design and pattern make a small kitchen style.
26. Reflecting Interior
If you made your kitchen with marble or granite so your kitchen surface is maybe Reflecting but you can make it reflected by using a mirror, which will create the illusion of a big kitchen.
You may also be interested: Top 6 best Vegetable washing machine
27. Decorate kitchen lamp
You can cover your kitchen lamp ring with some cool stickers and some design things.
28. Secret drawer
Make a secret or underground drawer that will help you in storing expensive kitchen equipment and some also can be used for storing herbs and other food items.
29. Install photo frames
As a cook maybe you spent most of your time in the kitchen so install a photo frame of beautiful natural views, sea, and another photo frame that will not only make you refresh but also enhance your kitchen look.
30. Kitchen towel organisations
If you are using a kitchen towel so you have to organize them properly, you can simply do this by holding clamps.
A final thought on small kitchen decorating ideas
So these are the 31 small kitchen decorating ideas and most of them are very easy to make.
I don't tell you to apply all these 31 ideas to your kitchen just find your best combination of 2-3 and modify your kitchen then your kitchen looks better than before.
Also, read the article about the best garbage disposal cleaner.
---
FaQ
Q: What are the easy kitchen wall decorations?
The simplest kitchen wall decoration has decored that wall with beautiful stickers and other desiring stickers, you can also paint your kitchen wall for making it decorative.
Q: Do you decorate before fitting a kitchen?
Some work like wall, floor and room decorations is finished before feating kitchen table and other stuff of kitchen.
After feating the kitchen table then we feat lights and other decorative.
Q: What are some essential small kitchen appliances?
If you're using a small kitchen so you have to use small kitchen equipment that will enhance your kitchen look that kitchen equipment is:
• Mini mixers
• Chopping tools
• Storing and organizing boxes
• Some other tools.