If you have a garbage disposal then you need to clean that garbage disposal from time to time. Otherwise, it will create problems like nasty smells, jamming, etc…
So here I will explain, how you can clean the outer and inner parts of the garbage disposal in step by step. So are you ready to know How to clean garbage disposal? Let's start…..
---
5 steps to clean garbage disposal
Here I will explain step-by-step, how you can clean the garbage disposal, and also I will explain what products you can use for cleaning these.
You need a few basic items to clean the garbage disposal properly.
STEPS OF CLEANING:
1. Turn off the garbage disposal
First, turn off the disposal power, and then check all outside and inside corners of the garbage disposal. Is there any food particle present or not?
2. Clean the sink flange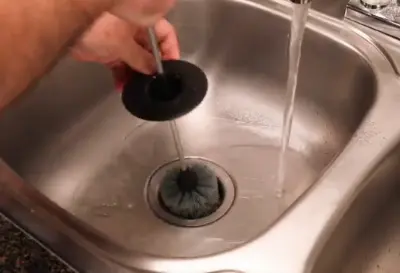 Then turn the water tap on, for a minimum of 2 minutes.
Then use a brush and soap water to clean the outside of the sink flange.
You can use tweezers to remove small food particles from the sink flange.
Check out garbage disposal brush for cleaning
3. Use salt and ice
This step is the most important and necessary for cleaning the inner part of the garbage disposal, this process can help you to remove food particles from inside the disposal.
Take a few amounts of medium size ice cubes, which can be fitted at the sink flange /hole.
Put all the ice cubes into the sink then add salt to it.
Then use your hand to put one cube into the disposal.
After this, Supply water.
Then turn on the disposal.
During this process, the ice cubes are chopped into small pieces and those pieces rotate inside the disposal and remove the food material inside the disposal.
4. Manually remove the extra food
After this process takes a brush long brushed will be easier to use.
Take that brush and dropped a few amounts of cleaning liquid.
Use that brush for cleaning internal parts flawlessly.
Click here to know why your garbage disposal smells bad
5. Last step
After the process, now turn on the garbage disposal and also turn on the tap water, continue this process for 2-3 minutes.
Now your disposal is almost clean.
After this, you can apply a few odors enhancing products for removing bad smells from the disposal.
Note: you can use a few other items with ice, and it will give better results all those items are given below, so read out to know these tips.
---
Cleaning garbage disposal using other items.
Vinegar: Vinegar contains acetic acid which is popular for cleaning kitchen tools, so you can use vinegar and soap water mix for better results. Also, vinegar is used for removing rust from metals
Baking soda: Baking soda and water solution are slightly alkaline so they will be able to remove dirt from a metallic surface. So you can add this item while cleaning the garbage disposal. Click here to know how you can clean your disposal with vinegar and baking soda
Lemon: Lemon contains citric acid which also works as vinegar, you can use both seeds and the skin of lemon for cleaning. Lemon not only cleans the surface bacteria it also removes rust.
So I would recommend you, add these items to your list.
---
Why cleaning garbage disposal is important
Garbage disposal is one of the most important items in the kitchen, and also the dirtiest part. After a long time of use, some of the food particles are deposited inside the garbage disposal corner, which is home to bacteria. Also sometimes it can be the cause of the bad smell.
For this reason, you need to clean the garbage disposal from time to time……
---
FaQ
Q: Is there any auto-clean garbage disposal available?
Not really, there is no fully auto-clean garbage disposal, but yes, there is some disposal present that can give some extra features to clean quickly.
Q: Which garbage disposal part is most necessary to clean?
The inner parts like blades and the war in pipes are most important to clean from time to time, otherwise garbage disposal creates problems.
Q: How many times do I clean my garbage disposal?
You can clean the garbage disposal every month gap, this habit can make your garbage disposal blockage and bad smell free.
Q: Do cleaning remove garbage disposal smell?
Yes, cleaning garbage disposal remove bad smell, also you can use some odor enhancing products.
---
Conclusion on How to clean garbage disposal
Cleaning garbage disposal is easy, you just need to follow a few instructions also you need a few items like ice, vinegar, and salt to implement this process.
Now I think, now you have a better idea about how to clean garbage disposal, so do all processes.
Tell us in a comment, whether these tricks work or not.
Have a nice day!