Is your garbage disposal smell bad? And do you want to remove that smell? then don't worry this is a common problem.
Most Garbage disposal smells like dead animal, even worse. So here I will explain why this is happening, and a few ways which you can use to fix this.
So it takes hardly 3 minutes to read this article completely.
---
Why does Garbage disposal smells like dead animal
There are some types of food materials that create this type of problem, inside the garbage disposal.
There are a few corners where the disposal blade doesn't process the food particles properly.
If the big food particles are stuck in that place then it will create a bad smell like a dead animal. Also sometimes it will jam the garbage disposal.
To prevent this, I will tell you about 5 different types of items that you can use to remove that dead animal smell.
---
How to remove the bad smell of garbage disposal
1.Lemon:
Lemon contains acids and also bacteria-killing agents so it will be one of the best methods.
Also, lemon seeds and lemon juice work combined like a charm, so use lemon juice for removing Garbage disposal bad smells.
2.Ice cubes:
Garbage disposal needs to be fully cleaned, to remove bad smells so use ice cubes and water to clean garbage disposal internally.
These ice cubes will remove dust from corners, and automatically melt inside the disposal which makes a proper wash…
To know more about the👉 ice cleaning method of garbage disposal read here..
3.Sink Cleaner:
There are several types of garbage disposal cleaners present in the market, which clean the inner surface and also emitted a good smell.
So it is the most useful product on this list.
4.Vinegar and baking soda:
These two products are the most useful ones, you can use both at one time or you can separately use them.
Apply baking soda and vinegar mixture with water and lemon it will give a better result, also we have a step-by-step quick process in an article about 👉cleaning garbage disposal with vinegar and baking soda.👉
5.Cleaning Brush: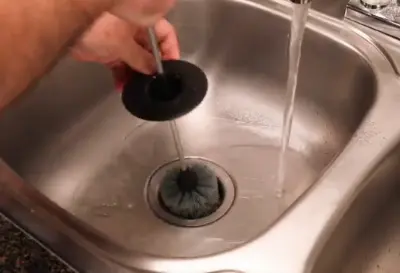 No one can replace a manual brush, these are special types of cleaning brushes for garbage disposal.
(Rounded brush) which can easily clean all round side of the disposal also able to clean corners of garbage disposal.
So use these 4-5 steps and check what works and what does not, and tell us in the comment your favorite. ( Or any guidance)
---
FaQ
Q: Why does my garbage disposal smell even after cleaning?
That happened when food particles were still present inside the garbage disposal base, even after cleaning so remove that food particle.
Q: Will baking soda and vinegar damage garbage disposal?
No, these are alkaline but it doesn't damage the garbage disposal surface, so don't worry.
Q:Can bad garbage disposal smell bad for your health?
Usually, a bad smell arises when something is stuck inside the disposal, so that object releases harmful gases and methane which slightly affect your body.
Q: how much time it will take to clean the garbage disposal completely?
It will take hardly 30 to 45 minutes to clean the garbage disposal completely.
---
Conclusion on Garbage disposal smells like a dead animal
In simple words, you have to do time-to-time cleaning, resetting, and applying soap and other items to remove the dead animal smell.
Use a garbage disposal cleaning brush to remove dirt particles from corners. And make sure you apply all those methods to get results.
I think this article on Garbage disposal smells like a dead animal will solve your problem, if yes, then share it. And moment us.
Have a nice day🥰